April 10, 2020
From the Desk of: Joel E. Davis,
Author of "How to Build a Million Dollar
Medical Transportation Company"
Hello to everyone within the transportation industry! I hope that this message and great opportunity finds you all doing well and that business is BOOMING!
I'm here to tell you about a great opportunity that I absolutely guarantee is going to help improve the efficiency and profitability of your business!
It's the newest Million Dollar ebook,
Dispatching for Dollars
!
And what makes
Dispatching for Dollars
so great is that it's authored by the absolute best dispatcher in the industry Ė Kathryn Thayer, my very own dispatcher and Office Manager!
Reduce Your Overhead Expenses
Increase Profits
Improve Accounts Receivables
Cultivate Loyal Clients
Reduce Vehicle Problems and Issues
Limit Scheduling Problems and Errors
Improve Scheduling Your Drivers
Operate Your Business 24/7
Increase Company Morale and Loyalty
And much, much more!
Many of you have met, spoken to, and worked with Kathy over the years. And like me, you may have noticed that Kathy knows what she's doing! She's the absolute best dispatcher and Office Manager!
It's literally because of Kathy and her great skills that allows me to be able to do what I do - make money, travel, enjoy life, and engage in other business interests!
And now, you're going to learn from Kathy herself how to train your dispatchers so that you too can put your business on autopilot!
In
Dispatching for Dollars
, you're literally going to be able to get into Kathy's mind and learn detailed tips, strategies, ideas, and techniques that she uses on a daily basis to make my business incredibly efficient and profitable!
Unlike drivers, your dispatcher is literally the focal point of your business. He/she is the first person to interface with your clients, facility staff, and ALL of your drivers. And it's YOUR responsibility to ensure that you're dispatcher has the necessary tools and strategies to be successful and can profitably manage your business.
Did Kathy know everything about being a great dispatcher when I first hired her in 2002? Absolutely not! Ironically enough, I initially hired Kathy as part-time. But I quickly realized that she was a valuable asset to my team.
Overtime, Kathy was promoted several times and within two years she became my Office Manager and primary dispatcher. And instantly, Kathy's ideas, energy, strategies, and efficiency began to reduce my overhead expenses while increasing my profits!
Needless to say, I'm incredibly proud of Kathy. First, because she's very good at her job and handles my business affairs very well. She has always come up with excellent, creative, and efficient strategies to improve our business. And every time she comes to me with a problem, she ALWAYS has a proposed solution!
Secondly, I'm very proud of Kathy because she did an absolute great job in writing and creating
Dispatching for Dollars
!
I've personally read and edited

Dispatching for Dollars

so I know first hand what a quality resource this is and how much it's going to help improve YOUR business.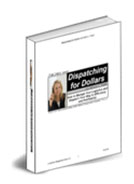 Many people have referred to my ecourse, How to Build a Million Dollar Medical Transportation Company, as the "Bible" of the non-emergency medical transportation industry.
Well, ironically enough, I can absolutely assure you that
Dispatching for Dollars
will serve as the "Bible" of dispatching.
I guarantee that your dispatcher(s) will learn so much from this great resource that it will become the "Standard" Training Manual for all your future dispatchers.
Truth be told, the inspiration for the development of
Dispatching for Dollars
came from the countless number of questions we receive regularly regarding various dispatching related issues.
One day, Kathy literally came into my office and said "I think it's time for me to write an ebook about dispatching that will answer all these questions and help educate the dispatchers." And literally, from that great suggestion, Kathy was officially commissioned with the creation of
Dispatching for Dollars
!
As many of you know, I sent out a mass email to every member of my FREE Million Dollar Newsletter letting you all know about
Dispatching for Dollars
prior to the launching of this site.
And I'm very pleased to say that there has been such excitement and enthusiasm for this resource that literally several dozens of clients have invested in
Dispatching for Dollars
during this pre-launch period!
But the great news, Dispatching or Dollars is literally seconds away from your fingertips! That's right. You can download
Dispatching for Dollars
right now, for
ONLY $59.95!
You'll be reading this great resource immediately following your investment!
Click Here
Now to Start Increasing
Profits and Efficiency in Your Company
For those of you whom Iíve personal worked with and have read my
Million Dollar Ecourse
, you know that my goal is create a business that provides us with more personal time, money, and freedom. Anything less then achieving this goal is a waste of time and is unacceptable.
And needless to say,
when you use Kathyís techniques and strategies youíll be moving in that direction Ė a more profitable and efficient direction!
So donít waste time, money and effort, "reinventing the wheel!" Invest in Dispatching for Dollars and let your dispatchers learn from the BEST!
See you at the Top!